INTRODUCING WOLF ACADEMY'S NEW JIU-JITSU PROGRAM
"What is Brazilian Jiu-Jitsu?"
Brazilian jiu-jitsu is a martial art and combat sport that teaches a smaller person how to defend himself against a larger adversary by using leverage and proper technique. The Gracie family, the founders of BJJ, modified judo and traditional Japanese jujutsu to create the art. It contains stand-up maneuvers, but it is most famous for its devastating ground-fighting techniques. Gaining superior positioning—so one can apply the style's numerous chokes, holds, locks and joint manipulations on an opponent—is the key in BJJ.
W.O.L.F. Academy is proud to introduce it's new Brazilian Jiu-Jitsu program. With a dedicated space for Jiu-Jitsu practitioners, athletes of all levels will be given the opportunity to increase both strength, flexibility and endurance.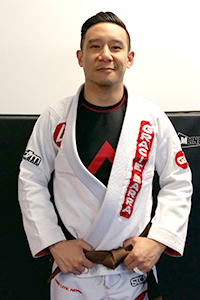 W.O.L.F – Athletic Academy – now introducing Brazilian Jiu-Jitsu classes in one of the growing hot spots in Toronto/St. Clair West neighborhood other wise known as The Corso Italia. These classes are taught by Gary Chong, a brown belt under head instructor and Gracie Barra second degree black belt professor Salvatore Pace of Gracie Barra Bath UK, one of the biggest Jiu-Jitsu clubs in the south west of England.
Gary has been under the Gracie Barra flag and tutelage of Professor Salvatore Pace since he started his Jiu-Jitsu journey. Having recently moved from the UK to Toronto Gary is now teaching Brazilian Jiu-Jitsu classes at the W.O.L.F Academy located in St. Clair West. Gary is a patient teacher who likes nothing more than to see students learn the valuable life lessons that Jiu-Jitsu can teach you on and off the mat.
At our new W.O.L.F Brazilian Jiu Jitsu Academy we like to implement the approach of 'Jiu-Jitsu for everyone'. Whether you want to lose weight, get fit, learn defense or compete, we have something to offer for everybody.
Classes follow a structured training plan curriculum based on a mixture of fundamental and advanced techniques. All classes are taught with detailed explanation and thorough break down, ensuring students of all levels grasp the understanding and ability to execute and demonstrate every move shown.
"We seek to train body, mind and spirit through the highest level of Brazilian Jiu-Jitsu instruction. We envision the art as a vehicle for individual development and the strengthening of the family spirit, going beyond the winning-losing or contest philosophy." – Master Carlos Gracie, Jr.
Team: Gracie Barra
Lineage: Carlos Gracie Sr – Carlos Gracie Jr – Carlos Lemos Jr – Salvatore Pace – Gary Chong